I'm part of two crochet groups. One is hip & trendy, the other is for everyone. The thing about the hip & trendy group is that I always find out what's, well, hip & trendy haha.
So it should be no surprise to hear that that group is the first place that ever let me know about Mandala Yarn by Lion Brand. Ladies would keep posting about their findings in Walmart with excitment. All I wanted to know was the weight of the yarn and the cost because it looked so cool. It turns out that it's Light Weight, size 3. It costs $9.99 on the Lion Brand website.
I bought a couple rolls and had no idea what to do with them. Then I remembered someone mentioning in that same group that customers at craft fairs love triangle scarves. I immediately went on a hunt for a triangle scarf pattern and got to work.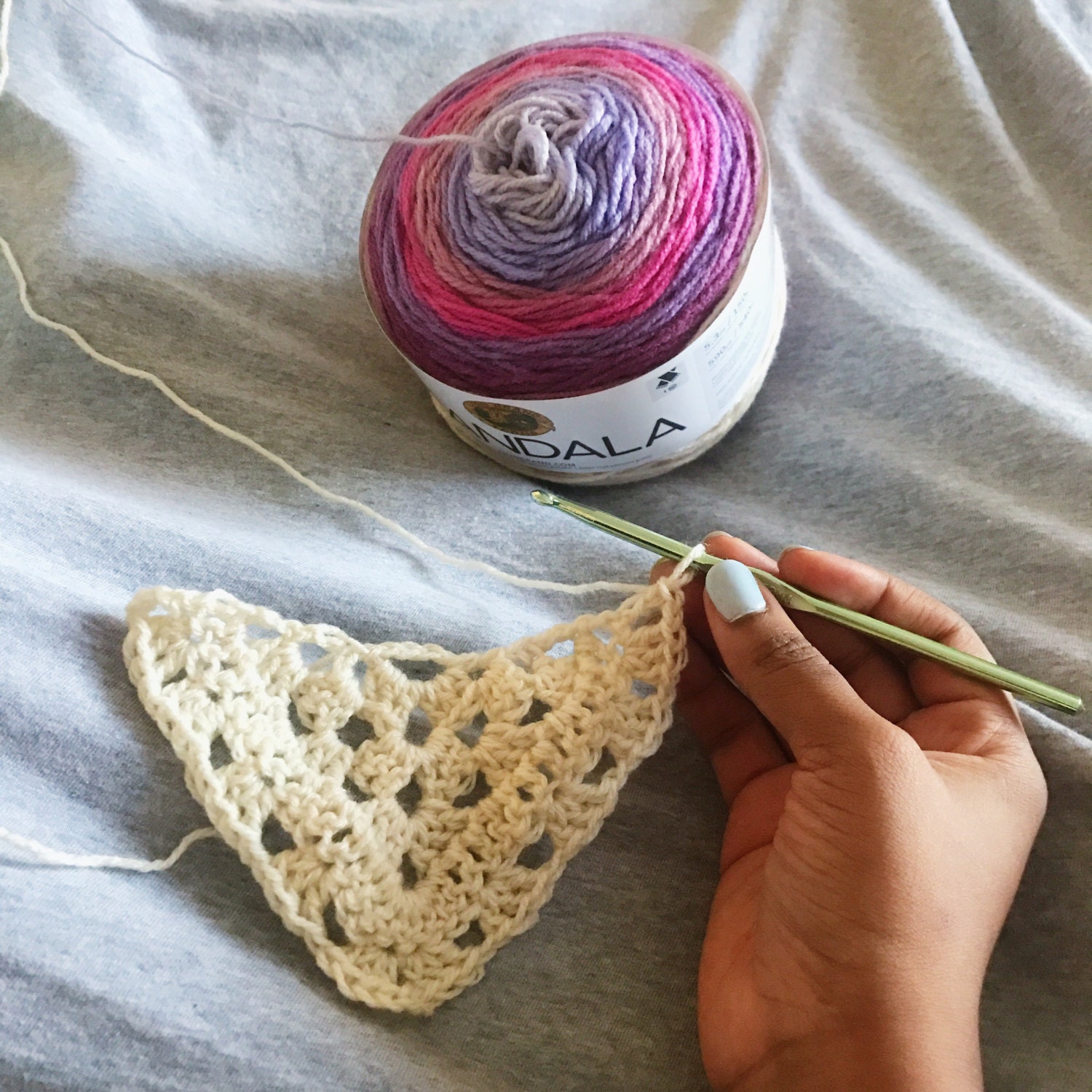 Now I may be spoiled by all the Bulky Weight yarn that I've been working with for the past few months, but I was quite bothered by how tiny the yarn was. It annoyed me sooooo much! It took extra effort to make each double crochet stitch and I was not very happy. The packaging suggested the use of a size 5 mm crochet hook, but I wanted to use size 5.5 mm because I'm a rebel and I do what I want. Maybe that's why it was so annoying? IDK.
The yarn is very soft and feathery. I'm not sure if that's a good thing if you want the scarf to last long and not look worn out quickly, but it felt great in my hands and very comfy around my neck.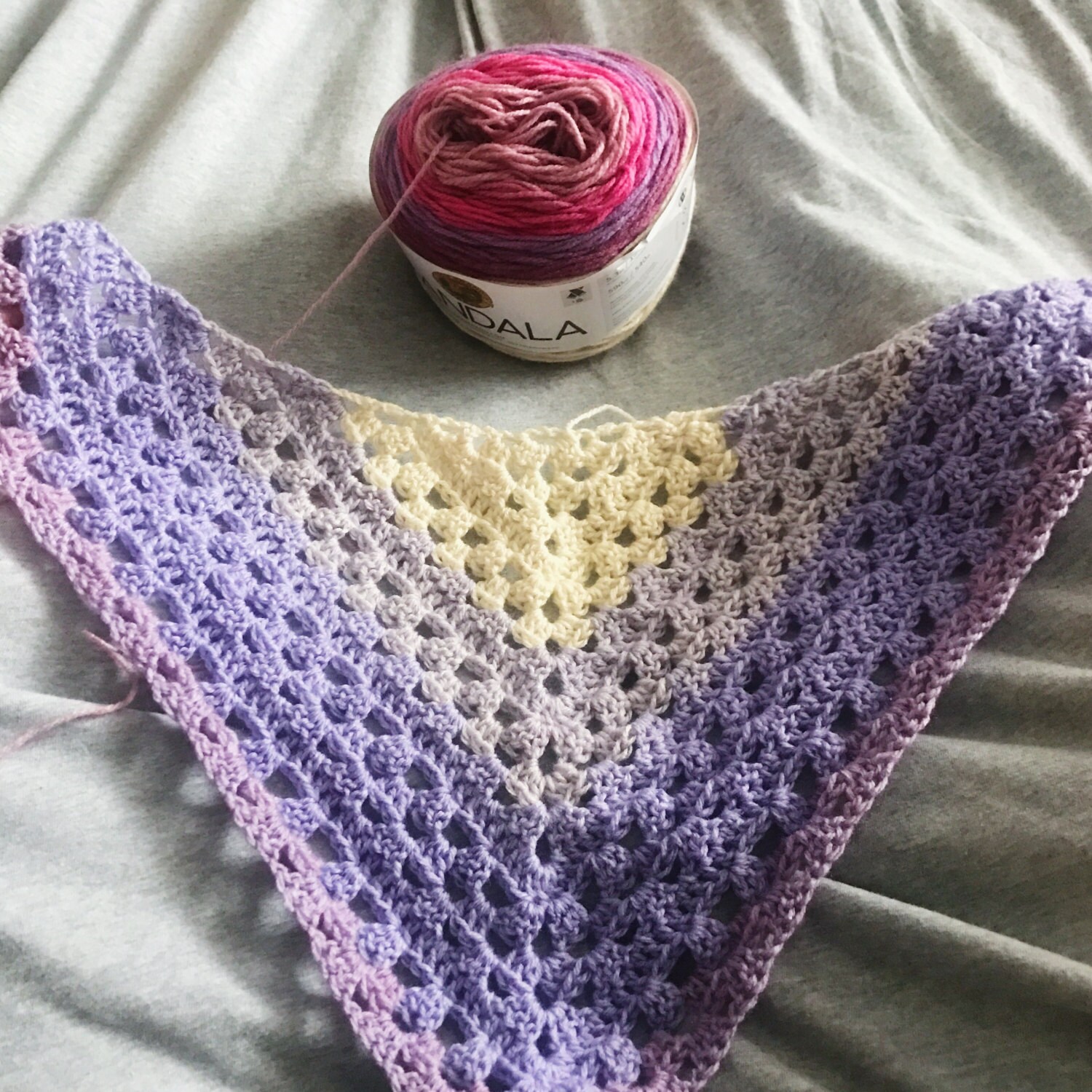 The best thing that I love about this color-changing yarn is the transitioning of the colors. You know how with Caron Cakes or Premier Yarns Sweet Roll the color changes abruptly? It's like, one second you're working with green and then the next second you're working with white. What?? Well, the colors of each Mandala roll transition more naturally. Exhibit A: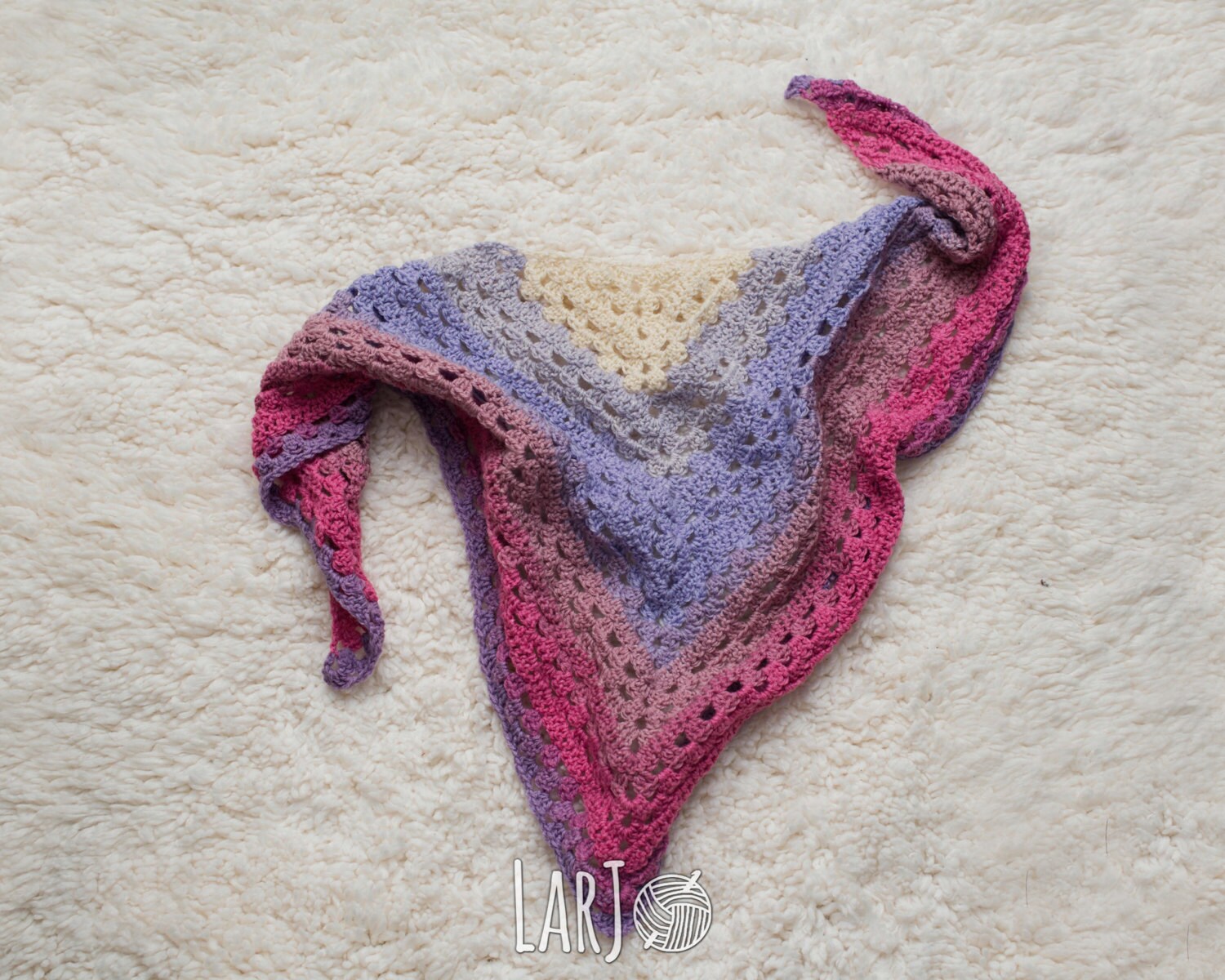 So...
Q: Would I recommend you get a few rolls of this yarn?
A: Heck yes! Again, I really dislike the thinness, but the colors are so pretty and smooth that I'll just have to suck it up.
Q: How does it compare to Caron Cakes & Premier Yarns Sweet Roll?
A: It's way thinner, obviously. It's also a lot softer.
Q: Which of the three color changing yarns do I prefer?
A: Well, to be honest... I REALLY like the Sweet Roll yarn because I feel like the colorways make more sense in comparison to those of the Cakes. It's also Worsted Weight and I anything that's size 5.5mm + (so I may be biased). But when it comes to softness and good transitioning of colors, Mandala definitely wins in my book. Just don't get it if you're looking to make a quick triangle scarf.
Happy creating!